Your Check Cashing and Bill Pay Solution
Welcome to CashITUSA Check Cashing Software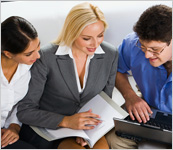 Managing your Check Cashing Store has never been easier or more effective.
CashITUSA is the first "distributed" (Internet-based) check cashing software developed for financial service providers and check cashing organizations.
Eliminate risk and worry with our payroll check guarantee feature.
CashITUSA gives you the ability to guarantee payroll and personal checks.
CashITUSA is the complete business management solution.
CashITUSA provides the platform to manage all your transactions, customers, payers and employees.
Whether you own a single store or multiple locations, CashITUSA is designed to handle them all and give you the information you need to manage your business on a real-time basis.
CashITUSA minimizes risk and increases profits
CashITUSA is internet based to provide you with real-time information
CashITUSA is the complete solution for your Check Cashing Store
CashITUSA is the true franchise alternative
Who is using CashITUSA Check Cashing Software

Our Customers want to focus on managing their business by utilizing CashITUSA Software.
CashITUSA warns if a customer has passed a bad check at another retailer and if the customer has cashed a check today in real time.
CashITUSA shows if a company has bounced checks.
Real Time Access to our NCCD (National Check Casher Database) will keep you in control
All CashITUSA clients use the NCCD live, so if a customer is registered at any location, you can access the information, which is immediately available.
Check Cashing Stores and Financial Service Centers
Convenient Stores and Gas Stations
Supermarkets
Banks
Specialty Stores
Casinos
Pawn Shops
Tax Preperation Offices
CashITUSA is the first internet based check cashing software with integrated bill pay solution for your business Contact us today for more information and request your free demo. See how easy it is to get started in the check cashing business and increase your bottom line.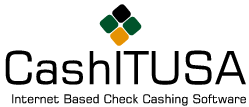 Trusted by
Banks
Casinos
Check Cashers
Convenient Stores
Financial Service Centers
Gas Stations
Pawn Shops
Specialty Stores
Supermarkets
Tax Preperation Offices