Internet Based Check Cashing Software
About CashITUSA
Idex Software developed its first version of check cashing business management software in 1990
At this time, we specialized in point of sale systems for liquor stores. One of our liquor store customers, who cashed payroll checks, asked us to develop a simple program to manage the check cashing side of their business.
That first check-cashing program we developed was a desk-top program which was so popular that most of our liquor store customers also wanted to use this software. As our customer base increased over the years, suggestions were made to improve the software.
We discovered that desktop software has a major weakness that can cause check cashers to cash fraudulent checks. That weakness was: desktop packages only provided users information they put in the system. There were no information-sharing capabilities!
We decided that we would develop business management software for check cashers that used the information-sharing capabilities of the Internet. We also wanted to eliminate customer cards and producing ID's every time a customer wanted to cash a check. The results of years of research and development is our current product, CashITUSA.
CashITUSA is our server-based, system that records every transaction in "real time" and makes this information available to all our clients on every transaction. CashITUSA gives our clients the information they need to make decisions on which checks to cash and which checks to reject to eliminate bad checks and increase profitability. We would welcome the chance to have you join our network!
Sincerely,
Your CashITUSA Team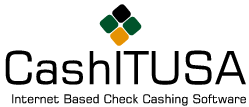 About Us
Specialized in developing check cashing software solutions