Internet Based Check Cashing Software

CashITUSA Features
CashITUSA has the most comprehensive features of any internet based check cashing software solution. Access to live up to the minute customer and payer information via the NCCD, optional check guarantee, bank account verification (works also after hours), customer identiy verification, reverse phone # lookup, bill paymnet module, check 21 electronic check deposit, prepaid debit card issuance and refill and more

Why you need CashITUSA and the National Check Casher Database (NCCD)
All CashITUSA stores use the NCCD, so if a customer is registered at a location, you can access the identity recrod from any location. This eliminates the need to add a customer for each store and makes customer enrollment fast, easy and secure.
Customer information stored via ID scanner and located by fingerprint scan. This ensures you always use the correct customer.
Information sharing is immediately available. No more waiting for polling data at the end of the day or week. No more faxing warnings to other stores in your area. Customer and maker alert messages and risk analysis reports are shown each time the customer or payer is accessed.

Why you should use CashITUSA's internet based check cashing software
- Look up customers via fingerprint and speed up your check cashing transaction time
- Find out instantly if a customer or payer had a bounced check unresolved before you finish your transaction. Details of all transactions are automatically available in real-time with every store
- Verify new customers id during enrollment online
- Payer research gives you 24 hour access to bank account verification
- Deposit checks electronically via check21 direct deposit if desired
- Comply with government regulations and reports. CashITUSA allows to check OFAC list.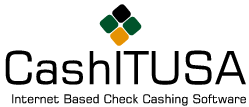 Features
Truly Internet Based
National Check Casher Database
Multi-Store
Speedy Enrollment and Transaction
Comply with Government Regulations
Bill Payment
Money Transfer