Internet Based Check Cashing Software
Our Services
CashITUSA's internet based check cashing software offers lots of services, that are optional and should be used on a as needed basis.
Prepaid Debit Card and Check 21 Direct Deposit
Reduce cash on hand and save time and money via direct deposit instead of going to the bank

If you don't like to carry big amounts of cash on hand, you might consider offering your customers a prepaid and refillable debit card instead of cash / moneyorders.
Depositing your cashed checks into your checking account without going to the bank? Easy with Check21 Direct Deposit. Have your checks deposited online without spending time and energy driving to your local bank and waiting for the teller to serve you.
ID Verification and Bank Account Verification
Verify customers identity and bank account information with the click of a button

Our Customer ID Verification while enrolling a new customer helps eliminate risk. Verifying a new customer is quick and easy.
Verify a bank account after hours? No problem with integrated Bank Account Verification. Or use it standalone.
Bill Payment and Money Transfer Services
Increase revenue by offering Bill Payment and Money Transfer Services

Offering online Bill Payment will increase revenue and increase customer loyalty for every check casher.
Money Transfer Services are an additional revenue stream and increases customer loyalty.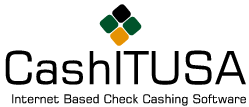 Services
Prepaid Card
Check 21 Direct Deposit
ID Verification
Bank Account Verification
Bill Payment
Money Transfer